From sasuke @ BA c/o Baidu
http://animeprodestiny.forumcommunity.net/?t=10279068&p=330982417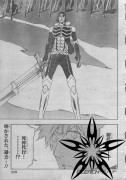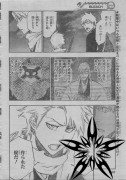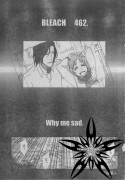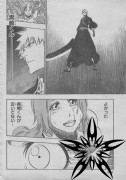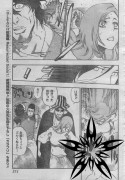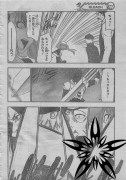 [QUOTE=Aira;413891]raw: ohana @ 2ch
trans: sheetz @ flol
ohana ◆IR7jauNn4E :2011/08/31(水) 18:25:46.86 IDN8se435P

なんか… 


死神代行の掟は銀城に作れらたもの。
ヒツガヤが説明。
Hitsugaya explains that the shinigami agent laws
were created because of Ginjou.

そこに井上泣きながら走ってくる
Inoue comes running and is crying.
黒崎君が泣いてると悲しい
She was sad because Kurosaki-kun was crying.
そこに他死神もいることに気づく井上
She then notices the other shinigami.
チャドも到着、これじゃまるで銀城を倒しに来たみたいだ。と気づくチャド
Chad arrives. To him it appears they came to take down Ginjou.

月島 なにか過去に疑問があるのかい?~~~
Tsukishima: "Is there a question regarding your past?"
井上恐怖で漏らす
Inoue gasps, frightened.
チャドもビビる
Chad is also nervous.
背後から裏腹とパパ。井上とチャド気絶させる
Urahara and Isshin come from behind and knock out Inoue and Chad.

そこに他フルブリングが集まる
The other fullbringers gather.
雪雄 その能力はみんなで分け合うやくそくだったろう!
Yukio: You promised to share that power with everyone!
リルカだけ、苺の力なんていらない~(本当に知らないよう)
Only Riruka didn't want Ichigo's power. (She really didn't know.)

銀城、他フルブリングを斬ってしまう(苺の力をわける)
Ginjou cuts down the other fullbringers. (He's dividing Ichigo's power)
で終わり。
The end
There's not much in the scans that wasn't covered in the summary.

--Hitsugaya explains that the shinigami badge is given to shinigami agents because of Ginjou.
--Tsukishima thinks it strange that Orihime and Chad are disbelieving their memories with him so he reminds them. He says that he was the one to protect Orihime from her parents and the one who gave Chad his pendant.
--At the very end there's a caption saying, "All out war begins!!"
from apd:
translation by sheetz:
OK, this pic is really creepy. Orihime says she's alive thanks to Tsukishima. Chad says he trusts in Tsukishima.
_________________
Set by Satinel
Kage





Posts

: 58


Cash

: 5853


Reputation

: 0


Join date

: 2011-08-09


Age

: 26


Location

: Ireland





Similar topics
---
Permissions in this forum:
You
cannot
reply to topics in this forum